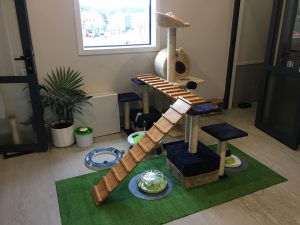 Our boarding cattery is located at our Waimauku branch of Vets North.
The cattery comprises of 17 suites where cats are housed individually or in family groups. This provides an environment where your cat/s can relax without the stress of communal living. Our large play area provides plenty of stimulation and behavioural enrichment  to keep your cat happy during their stay with us. Our cattery attendants are vet nurses and your cats health and well being is our number one priority.
We are able to manage your cat's medical needs should they be on medication or have a condition that requires injections or fluid therapy. We are also able to provide services during your cats stay such as dental treatment, desexing and grooming.
For enquires or bookings please phone our Waimauku branch on 09 411 7575
Bookings are essential.
request more information
Back