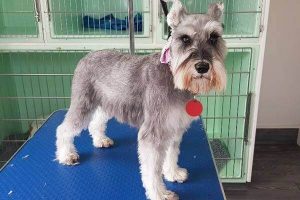 Vet's North Dog Grooming – North West
Vets North cater to all your dog grooming needs. Our centrally-located Waimauku grooming facility is rurally situated in the heart of West and Northern Auckland. Vets North have over 50 years experience in caring for your dogs – meaning you can be assured we follow strict veterinarian guidelines when it comes to dealing with the safety, cleanliness and care of your beloved household pets. We specialise in both dog and cat grooming and our facilities are purpose-built to maximise the comfort and cleanliness of your pets. Our environment is clinically clean, sterilised and designed to minimise stress on your pets.
With many years of experience working with dogs, spanning multiple generations, Vets North have a stellar reputation across all of Auckland. Our vets and staff are known for their passion, love and care when handling and tending to our clients animals or pets. All of our clients pets are handled as if they are our own and we assure the safety and comfort of every animal that we tend to.
Grooming Services
We offer a variety of dog grooming options, that vary depending on the requirements of your dog. We cater to all breeds, sizes and coats of both dogs and cats. We use environmentally safe and natural shampoos, which meet your fur baby's PH levels, however we welcome you to bring your own.
Dog Grooming Services
Our dog grooming services include washing, brush out, face trimming, feet trimming, full body cuts/clips, nail trimming, ear cleaning.
Cat & Kitten Grooming Services
We also offer grooming services for your kitten or cat and include bath washes, hair cuts, nail trimmings and hygienic ear cleanings.
Our Grooming Locations
Our grooming station is situated at our Vets North location in Waimauku, West Auckland. The address is 1 Sarah Todd Lane, Waimauku, and is situated directly across from the primary school.
Pricing
Our grooming prices are extremely competitive and affordable, where prices will range depending on the length, coat, breed and grooming options you require.
Prices start from $50 however you can call us on 09 411 7575 for a quick estimate.
Gallery
Frequently Asked Grooming Questions
request more information
Back