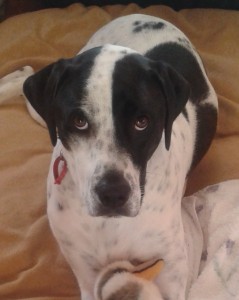 Hi my name is Breeze . I am a 3 year old speyed female Labrador pointer cross.  I live in Coatesville with Charlie, a 1 year old male golden retriever (a pain most of the time but he can be fun!) and 3 cats , a chicken, some guinea fowl, 2 horses, 3 Alpacas and 2 highland cattle.  I spend my days playing with the other animals, helping out on the property, or helping Elsa with difficult dogs that need to learn how to behave around other dogs.  We usually take a break and go to the beach once or twice weekly.
I was born in a Humane Society foster home.  My mother was a golden Labrador.  I don't know who my father was.  When I was 10 weeks old I went to a new home on a farm with a young couple. Soon after I arrived they separated and I was left in a barn all day for the next 6 months.  It was lonely, boring and sometimes scary.  I was always hungry.  Eventually the Humane Society heard of my plight and rescued me.  One month later Elsa and Adam arrived.  I found it difficult to approach people because I wasn't used to strangers but these two sat on the ground and I just felt happy about interacting with them.  I sat on Adam's knee and he gave me a big hug.  They talked to my foster people for a while and then lifted me into the car.
I was scared travelling, I hadn't been in cars much.  I was sick half way there.  I stayed at Adam's first.  He has a lovely garden with lots of interesting nooks and crannies but there was a lot of city noise around and I was frightened.  I went to Elsa's at the weekend and it was much quieter there.  Sometimes Elsa would pick me up during the week too.  It was often hard for her to find me at first because I used to hide when I heard people coming.  Adam used to take me to Meola Reef.  I was scared at first but soon looked forward to playing with the other dogs.
Gradually I got used to everything and settled in and then my knee became a problem.  I had surgery at Veterinary Specialist Group to fix my knee cap, because it kept popping out.  After surgery I went to stay at Elsa's because she is a vet and could look after me while I recovered.  She has a lot of flat area too so when I was able to walk again it was ideal for me.  Elsa had an old dog called Pierrot who looked after me and told me lots of stories.  He helped me to learn not to be scared of things.
I decided that I preferred life on the farm so moved in permanently.  It's just as well because a year later I needed surgery on my other leg.  Just before that Pierrot died (he was 14 and his hips gave out.) Elsa was devastated and she really needed me.
Nine months ago, Charlie arrived.  He was 13 weeks old and urgently needed a home.  Elsa took him with the intention of finding him a new owner.  We looked after him and no one seemed to want him so he stayed.  He is fun to play with and I am teaching him manners and how to help Elsa with problem dogs.  He is really naughty at the beach because he runs up to people when he is all wet and sandy and insists that they should pat him!  I just look the other way and pretend he isn't with me!  He is settling down gradually.
I will be writing about the world from a dog's perspective.  I have had a lot of experiences in my short life and I really want to help people understand their dogs.  Do send in questions if you would like me to try to explain some doggy behaviours.
Bye for now. Lots of licks.
B