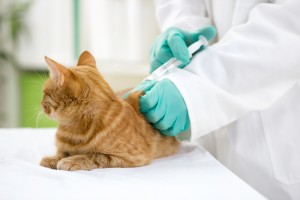 Vaccinations and Worming
Pets are a beloved and integral member of our family and should be treated the same in regards to their health. It is vital to safeguard your pets from a young age to ensure they are protected from often serious and sometimes fatal diseases or parasites. Our vets have decades of training and can help in preparing a preventative vaccination or worming program for your pet, whether it be a dog or cat.
When You Should Vaccinate Your Pet
As a general rule of thumb, your pets are given an initial round of 2-3 vaccines while they are young, and then receive annual boosters to ensure they are protected all year. 
We review each animal and do a general check-up, ensuring the vaccinations we use are appropriate and aligned with their current age, health, and breed. As professional veterinarians, we only the best vaccinations on the market, ensuring they last for as long as possible. 
Vaccinating Your Dog or Puppy
Leaving your dog unvaccinated will leave it open a diverse mix of diseases that are easily prevented. The most common are Parvovirus, Canine Distemper, Canine Hepatitis, and Canine Cough. Without proper vaccination, it is almost certain your dog will catch one or more of these common infections over the course of its life. 
To ensure against this vaccinating your puppy from a young age is vital. Generally, we recommend the following program
When:
6-8 weeks old: First core vaccination
10-12 weeks old: Second core vaccination
14-16 weeks old: Third core vaccination
Generally, some of these can be combined depending on the breed of your dog. After the initial vaccinations, they will generally get a booster from 12-18 months. And then an appropriate program will be formulated depending on your dogs' lifestyle, behaviour and environment. 
Vaccinating Your Cat or Kitten
The vaccination schedule of your cat or kitten is generally quite similar to that of a dog. It's important to protect them against common diseases such as Feline parvovirus (FPV), feline herpesvirus, Chlamydophila felis, and cat flu.
As with most pets, the vaccines will be divided up into core and non-core, one protecting against all widespread diseases and the other based on a variety of factors such as age, breed and environment. 
When:
7-9 weeks old: First core vaccination
13-15 weeks old: Second core vaccination
16-20 weeks old: Third core vaccination
Following the initial vaccines, a booster 12-18 months later is strongly recommended. However, after that, vaccines may be required as infrequently as every 2-3 years, once again depending on a range of factors.
Worming for Puppies, Kittens, Dogs and Cats
Every 2 weeks until 3 months of age, starting at 2 weeks old.
Once a month from 3 to 6 months of age.
After 6 months, follow adult recommendations which is every 3 months.
request more information
Back