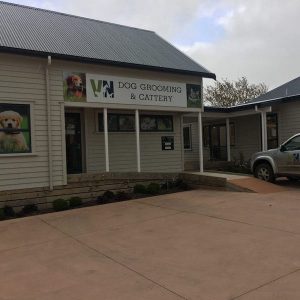 Vets North Cattery – North West
Vets North offers a safe, secure and affordable cattery in our Waimauku branch, West Auckland. With over 50 years experience caring for pets and animals, our philosophy has always been to provide excellence in service and care of your animals. Our cattery is no exception, providing a pristine, hygienic and friendly environment for your cat.
Drop Off & Pick Up Times
Monday – Friday 8.30am – 5.30pm
Saturday               9.00am – 2.30pm
Sunday                  By Appointment Only
Public Holidays   By Appointment Only
Housing Options
Our cattery has a range of housing options, where cats can be housed either individually or in larger family groups. Our clinic comprises of 17 self-contained suits, each of which provide a safe, stress-free and enjoyable environment for your cat.
Our Premises and Staff
The best thing about our cattery is that it also doubles as a veterinarian clinic, so your cat is often under the care of skilled vet nurses. You can be assured your cats health and well-being is our number one priority. This also allows us to monitor and manage any of your cats medical or dietary needs. If your cat is on medication or requires regular injections, our staff can also easily manage these requirements.
Our premises are located in West Auckland, Waimauku, where our guests will enjoy quiet, rural surroundings. Located in the Rodney district, Waimauku is only a short drive from Haupai, Kumeu, Helensville, Taupaki or Muriwai.
Feeding
We feed Royal Canin dry food for the appropriate age group of your cat, but clients are welcome to bring their own from home.
Other Services
The Vets North cattery can also offer cat de-sexing, dental treatment and other services if required. If during your cats stay, we find it to be unwell we will contact the owner and have the cat professionally seen to by one of our vet staff immediately.
We use Feliway products in our cattery to help reduce stress and anxiety. Creating a calming effect, it is very useful for cats in new environments. Feliway mimics the facial pheromones produced by cats, resulting in an emotional calming.
Cattery Pricing
For enquiries or bookings please phone our Waimauku branch on 09 411 7575 or email waimauku@vetsnorth.co.nz or cattery@vetsnorth.co.nz
Gallery
Keep up with our Cattery on Instagram by scanning this QR code.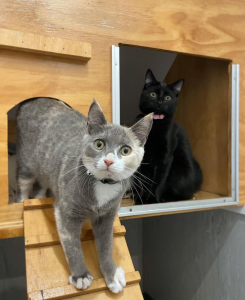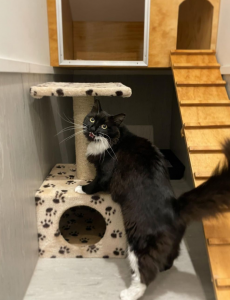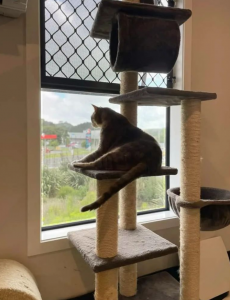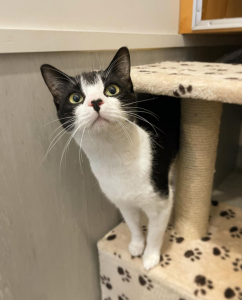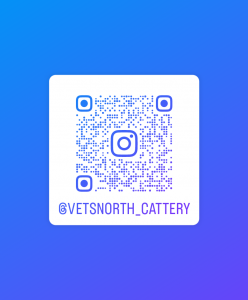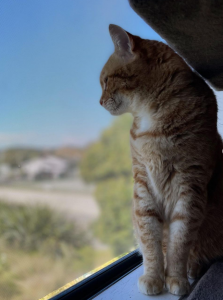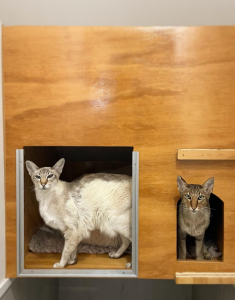 Do you have various levels of comfort or luxury, depending on your budget, or are all rooms priced the same?
The suites are all priced the same, including our double suite which is perfect for multiple cat households. 
Is there only one cat per room?
Yes, however cats from the same family may stay together if they're comfortable.
Is there a maximum stay limit?
No. Our cattery is perfect for any duration of long-term stay. 
Is there a minimum stay limit?
No. We can even cater for cats that require to stay for half a day or less.
Do you accept kittens? If so, what is the minimum age?
Yes, we accept kittens if they are at least 8 weeks old. We even cater for younger kittens if they are still with their mother.
What if my cat has not been desexed?
If your cat has not been desexed, please give us a call to discuss your options.
What if my cat has special dietary requirements?
Being a veterinarian clinic, means we are more than okay with feeding your cat a special diet. This is not an unusual request and our staff are all highly trained professionals that will adhere to any requirements your cat needs.
What if my cat needs medication during their stay?
Being a veterinarian clinic, means we are more than okay with administering any medications that your cat requires during their stay in our cattery. 
request more information
Back