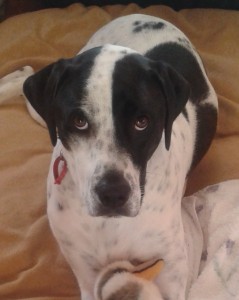 It's very hard for dogs to go into a vet clinic if we haven't been there before.  There are strange smells and noises and we can detect fear and stress in other animals who may be there because they have been hurt.  Having a stranger handle us all over is difficult to accept and so we get a bit tense and worried.
It really helps if we go to a clinic we are familiar with and see someone we know.  Vets North runs puppy school and dogs who have attended this become very relaxed about visiting the Clinic for other reasons later in their lives.  Puppy school is such fun.  We learn how to understand what our owners want from us to keep them happy and we have fun playing with other puppies and their owners.
If you have adopted an adult dog, bring him or her to visit the clinic once or twice weekly for a while.  Talk to the nurses and receptionists and encourage your dog to take treats from them.  I particularly recommend the liver rewards!
Lots of Licks
Breeze.