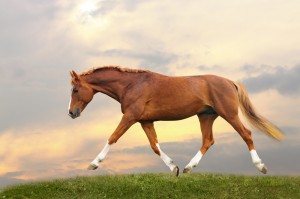 Pre-Purchase Examinations
A pre-purchase examination or 'vetting' is a thorough clinical examination of the horse prior to the purchase of the horse. This is carried out on behalf of the prospective purchaser to assess the horse's suitability for its intended purpose.
The purpose of a pre-purchase examination is to assign a risk to any abnormalities found, and therefore is not to pass or fail the horse but to alert the buyer to any existing conditions. The pre-purchase exam is not a guarantee or an insurance policy, it is an examination of the horse's health on a particular day.
The Examination:
· Stage 1: Preliminary examination
This is a thorough clinical examination of the horse at rest, including checking the eyes, heart and lungs.
· Stage 2: Examination during walking, trotting, turning and backing.
The horse is walked and trotted in hand on a hard, level surface to detect any abnormalities of gait and action. Flexion tests of all four limbs are then performed, which can help highlight any potential problem joints. It may also be requested to see the horse move on a lunge if the animal and facilities allow.
· Stage 3: Examination during and immediately after exercise
The horse is usually ridden during this phase in walk, trot and canter. This includes getting the horses heart and respiratory rates up to check for any abnormalities.
· Stage 4: Examination after exercise
The horse is allowed to stand quietly following exercise and recovery of vital signs are checked.
· Stage 5: A final examination during walking, trotting, turning and backing.
The horse is trotted in hand again to look for any lameness brought on my exercise. Flexion tests may be repeated at this stage.
Additional Tests
On top of the examination you can also request radiographs, endoscopy, ultrasonography of tendons, ECG, reproductive exam or a blood test for prohibited substances (e.g. bute/anti-inflammatories).
Paperwork
Prior to the pre-purchase examination, we require statements to be completed by the buyer and the current owner. These statements will be emailed to you after booking your pre-purchase appointment. Please ensure they are completed and returned to us before the appointment and all blank spaces are filled in, if you are unsure of an answer please write 'unknown'.
Please contact us at Vets North if you have any further questions.
request more information
Back