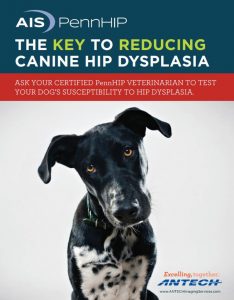 Dr Graeme Ashby & Dr Leanne Whittaker have completed the PennHIP course, and are certified to perform this procedure for dog breeders.
PennHIP (Pennsylvania Hip Scheme) radiographs can be performed on any dogs older than 16 weeks of age to help select breeding dogs at low risk for hip dysplasia.  PennHIP is the most accurate method currently available to determine this.
The procedure requires the dog to be sedated and then a series of digital radiographs are taken.  These are sent to America for analysis. The radiographer produces a report which gives the likelihood of the dog developing hip dysplasia later in life, and compares the dog with all other x-rays ever submitted for the breed.
You can find more about the PennHIP scheme at http://info.antechimagingservices.com/ 
request more information
Back