Dr Mark Anderson – BVSc
Find me at: Helensville & Kumeu & Silverdale & Waimauku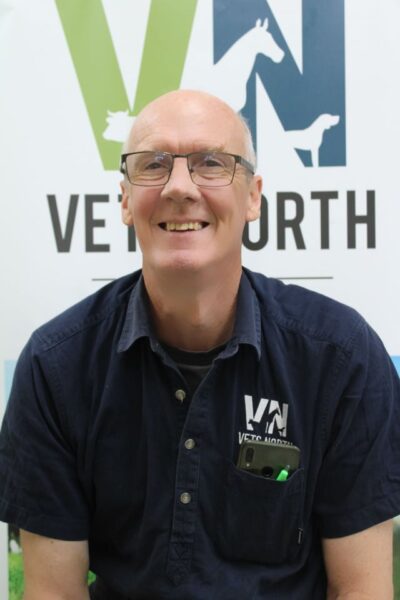 Mark was born in the UK but moved to Helensville in 1975, aged 16.  He went to Kaipara Collage for a year and then working on a local dairy farm for a year before going to Massey University to study Veterinary Science.  After staying on for an extra year he graduated with both a Batchelor and Master of Veterinary Science degree.  His Masterate was in deer parasitology, and he maintains a passion for parasitology to this day.
After finishing at Massey he moved with his wife Maureen to Ruatoria on the East Coast doing sheep and beef work and station horses.  After two years he moved back to Helensville to work for the Kaipara Vet Club and has remained there since.  The practice has changed name several times and location once onto the main street but can still trace its roots back to the 1950's.
Mark is on of the remaining old school vets who will turn his hand to anything.  Whilst large animal practice is his passion, especially sheep and beef farming, small animals, alpaca, horses and dairy farming are all within his scope.  Mark is also a long serving member of the Helensville Volunteer Fire Brigade and a past Chairman of the Helensville Primary School BOT.  He is one of the Directors at Vets North.
Mark has a small block outside Helensville where he has built a house and raised three daughters.