Dr Mark Young – BVSc
Mark is a partner in the practice and works on the equine side of the clinic.  He has worked in many diverse places including Gisborne, Matamata & Morocco.  Mark is experienced treating all types of horses from the Donkeys and wild Shetland ponies of Marakesh to the more typical Sport horses of New Zealand.   His areas of particular interest is lameness examinations & diagnostic imaging. Mark will be familiar face to many for his starring role in Vet Tales alongside his mate Stacey from Vetora.  Follow their lives on TV1 Wednesday's at 7.30pm. Mark lives in Waimauku with his wife Caitlin & three boys, Monte, Kobe & Makai.  When he gets some free time outside of work he can be found fishing in the Coromandel, on the local cricket pitch and is always striving to brew the perfect beer.
Find me at: Kumeu
Dr Mark Anderson – BVSc
Mark was born in the UK but moved to Helensville in 1975, aged 16.  He went to Kaipara Collage for a year and then working on a local dairy farm for a year before going to Massey University to study Veterinary Science.  After staying on for an extra year he graduated with both a Batchelor and Master of Veterinary Science degree.  His Masterate was in deer parasitology, and he maintains a passion for parasitology to this day. After finishing at Massey he moved with his wife Maureen to Ruatoria on the East Coast doing sheep and beef work and station horses.  After two years he moved back to Helensville to work for the Kaipara Vet Club and has remained there since.  The practice has changed name several times and location once onto the main street but can still trace its roots back to the 1950's. Mark is on of the remaining old school vets who will turn his hand to anything.  Whilst large animal practice is his passion, especially sheep and beef farming, small animals, alpaca, horses and dairy farming are all within his scope.  Mark is also a long serving member of the Helensville Volunteer Fire Brigade and a past Chairman of the Helensville Primary School BOT.  He is one of the Directors at Vets North. Mark has a small block outside Helensville where he has built a house and raised three daughters.
Find me at: Helensville
Dr Graeme Ashby – BVSc, BSc(Hons), MACVS
Graeme is a partner in the practice and joined Kumeu Veterinary Services in 2007 to lead the companion animal side of the practice.  Since Kumeu Veterinary Services & Helensville Veterinary Services merged in 2014 he now leads the Companion Animal team across both clinics.
He has successfully completed examinations in companion animal internal medicine, gaining membership to the prestigious Australian College of Veterinary Scientists.  Graeme has expertise in both medicine and surgery of all companion animals, exotic pets, rabbits and birds.
Graeme grew up in Waimauku and now lives just a stones throw from his childhood home with his wife Lizzie, son Cole and Schnack dog Rufus.  In his spare time you can find him at the Muriwai Surf Club or cycling the local roads.
Find me at: Kumeu
Dr Dave van Zwananberg – BVet Med (Hons), Cert AVP Eq Med, MRCVS
David graduated from London in 2005 and initially worked in mixed practice in Devon in the UK.  He is a partner in the practice and is a highly valued member of our equine team. His areas of interest are lameness, reproduction and general surgery. David lives in Muriwai with wife Amy & dogs Jasper, Fathom & Weasel.  Outside of work he can usually be found down the beach kitesurfing or when the wind is not blowing wakeboarding.
Find me at: Kumeu
Lisa Pedersen – Practice Manager
Lisa joined the Team in 2013 & works between our Clinics as Practice Manager.  She brings many years experience in marketing, business administration & sales.  She worked overseas for many years in America running a large Equestrian Centre along with a stint as a photographer on Cruise Ships in South Africa. She doesn't go far without her young Cocker Spaniel Capone who is lucky enough to join her at work, although he doesn't work quite as hard! Lisa lives in Wainui on her lifestyle block & is kept busy with her three horses, Maine Coon cats & the latest additions some chickens.  She enjoys kayaking, skiing, hiking & photography and has been training for yet another Oxfam Trailwalker in 2016.
Find me at: Helensville & Kumeu
Dr Catherine Phillips – BVSc
Cathy is a dairy farmer's daughter who arrived up in Helensville in the early 80's & made her home here.  She was initially a 'cow girl' serving a predominantly dairy practice in the early Helensville days.  She has now moved into the small animal practice & has now become a 'cat girl'. She lives on a lifestyle block with her two & four legged menagerie.
Find me at: Helensville
Dr Keren Fraser – BVSc & BSc
Keren graduated in 2006 from Massey University and spent the following four years in the Bay of Islands in mixed practice mainly dealing with dairy cows.  She then spent two years traveling around the UK focusing on small animals and returned to her native West Auckland to cover a maternity leave role & has stayed with us.
Find me at: Kumeu
Dr Angela Shoemack – BVSc
Ang joined the Vets North team in 2014 working between both clinics.  Her dog Podge is also lucky enough to join her at work. Ang lives locally on a lifestyle block with her husband.
Find me at: Helensville & Kumeu
Dr Elissa Mopper DVM
Elissa joined the Vets North team in 2015 and is enjoying all the variety the job has to offer.  Working out of both our Helensville & Kumeu Clinics, she spends her days treating everything from your lovely cats, dogs & rabbits, to the larger creatures, including sheep, goats, cows & horses.  Elissa was born and trained in the U.S.A. having graduated from Tufts University, Massachusetts in May 2015.  She currently lives in West Harbour with her partner and spends her time taking care of her new puppy, Rocket and exploring the local bush trails.
Find me at: Helensville & Kumeu
Dr Caroline Elvy – BVSc
Caroline joined the VN Team in August 16. Originally from Wellington, Caroline has been fortunate to experience living and working in a number of different areas including Feilding, Queenstown and East Auckland.  Caroline made the move out West a few years ago and currently lives in Muriwai with her dog Charlie, two cats, two budgies and a turtle. Outside of work you can find Caroline surfing at the beach or out running.
Find me at: Helensville & Kumeu
Dr Elke Haag – BVSc
Elke joined Kumeu Veterinary Services in 1996 and since the merger currently works part-time in the companion animal side of the practice at Vets North Kumeu.  She studied veterinary medicine at the Tieraerztliche Hochschule in Hannover, Germany.  She moved to New Zealand in 1993 to complete her post graduate research project. Elke lives on a lifestyle block in Taupaki which she shares with her husband, two girls, several horses, sheep, chickens and her cat Moritz.
Find me at: Kumeu
Dr Elsa Flint – BVSc
Elsa joined the Vets North team in a part time capacity as a Small Animal Vet.  She is one of the most qualified animal behaviour experts in New Zealand.  She runs Animals with Attitude behaviour clinic which takes referral animal behaviour cases from Auckland and beyond. Elsa has a MSc(Hons) in Behavioural Zoology, Bachelor of Veterinary Science (1991), Membership of the Australian & NZ College of Veterinary Scientists in animal behaviour and has recently completed a PhD in Veterinary Science (Behaviour).  She also lectures Animal behaviour at a training school for Veterinary technicians and is guest lecturer at Massey University in the field of animal behaviour.  She has also co-authored six books on animal care and behaviour and has published several scientific papers.
Find me at: Helensville & Kumeu
Arlene Pengally – Head Nurse
Arlene is the Head Nurse at our Helensville branch.  Her journey began in 1993 when she qualified as a veterinary nurse and worked in a West Auckland clinic for over 6 years. Arlene and her family then moved to the Marlborough Sounds where they ran an Ecotourism / Wildlife Sanctuary project.  Home beckoned so they made the move back up North to the Helensville district and she began in the Helensville Vet clinic in 2008. Arlene's family currently own a large sheep station down in the Marlborough sounds where her two teenage sons love to spend their holidays.  Arlene and her sons live just out of Helensville with her dogs Tiri and Fern.
Find me at: Helensville
Chelsea Ryan – Vet Tech
Chelsea has been a part of the Helensville Clinic since 2008 when she was studying veterinary nursing at Unitec.  She has always had a strong interest in the rural side of practice including a special interest in working dogs and promoting better health care and nutrition for them.  She has recently moved from Vets North Helensville and is now based in our Kumeu clinic where she has taken up the role of equine/large animal nurse. In her spare time you can find her with her horse Ty or relaxing at the beach.
Find me at: Helensville & Kumeu
Bex Lawrence – Head Nurse
Bex has been with us since July 2011 and completed the Diploma in Veterinary Nursing with Unitec.  She enjoys working in all areas of the practice with an interest in surgery and diagnostics.  Bex has completed the Hills Puppy Preschool Masters Class and is running our evening puppy preschool classes at the Kumeu clinic. Bex is also familiar as she features along side Mark Young on our TV Show Vet Tales. Her fur family consists of her dog Cubin and cat Theo.  She can often be seen running out of the clinic when responding to a fire call with the Kumeu Volunteer Fire Brigade.
Find me at: Kumeu
Narissa Cato – Vet Nurse
Narissa moved into the Helensville area from the Waikato and has worked at the Helensville clinic since 2007.  She started her Veterinary Nurse Certificate while working at the clinic and qualified in 2009.  Narissa feels very privileged to work with animals and have them as part of our lives. She has many fur babies who have stolen her heart over the years and is lucky enough to have a family who are just as animal crazy. Narissa is on maternity leave from October 15 and will be back with the team in 2016.
Find me at: Helensville
Brooke McGregor – Vet Nurse
Brooke graduated as a Veterinary Nurse in 2013 and also has a Certificate in Canine Behaviour & Training.  Her interests are surgical nursing and animal behaviour.  She also enjoyed completing a Wildlife and Conservation Expedition in South Africa. You can often find her outside with her dogs and horse.
Find me at: Kumeu
Lynnette Heke – Vet Nurse
Lynnette joined the Kumeu team in 2014 and completed her training in 2015. Lynnette has worked in a wide range of  roles including the human health field and the outdoor education industry.   She lived in the UK for 2 years before returning to NZ to complete her Vet Nurse Diploma at Unitec.  She also had the opportunity to nurse in a volunteer clinic in Tonga with the South Pacific Animal Welfare charity in 2014. Lynnette has grown up in a family that loves animals, at one point accumulating up to 27 cats and kittens around the family home, rehoming most of them to friends.  Lynnette lives in Woodhill / Helensville area with her cat Honey and has recently acquired a Helensville clinic rescue kitten that wormed his way into her heart.
Find me at: Helensville & Kumeu
Trina Mullan – Vet Nurse
Trina originates from a large dairy farming background in Taranaki, where she went from pet school calves to running the farms herself.  Trina wanted a new challenge so moved to the big smoke to take on a new career as a vet nurse.  While studying at Vet Nurse Plus, Trina was a student at Vets North Helensville and hasn't left since!  Trina completed her Certificate in Vet Nursing and is now studying the Dipolma of Vet Nursing while working part time. Trina runs Vets North Helensville Puppy School classes and has a obvious interest in large animals. Trina lives in Whenupai with her dogs Jack, Reko and kitten Lunar.
Find me at: Helensville & Kumeu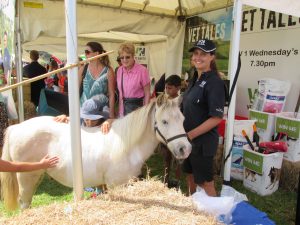 Lizzie Coombs – Trainee Vet Nurse
Lizzie joined the Team full time in 2016. More on Lizzie to come.
Find me at: Helensville & Kumeu
Sophie Coleman – Trainee Vet Nurse
Sophie joined the Vets North team as a trainee vet nurse in October 15. More on Sophie to come.
Find me at: Helensville & Kumeu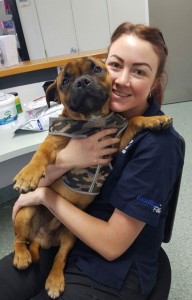 Melissa Rochefort-Rennie – Customer Service
Melissa joined Helensville Vets in 2012 and was a part of the Vets North merger.  In 2015 she left Vets North to give the corporate world a whirl however found herself missing the busy veterinary environment so she has come back on board with the Vets North Kumeu team. In her spare time you can find her coaching young equestrians, out on her motocross bike or involved in some kind of activity with dogs.  Mel, her partner Vincent and their fur-family consist of Whiz an English Stafford who starred on Kiwi Living, Bones a Helensville clinic rescue and Zenya.  Mel is passionate about continuing her education in animal behaviour especially puppy development and enrichment.
Find me at: Kumeu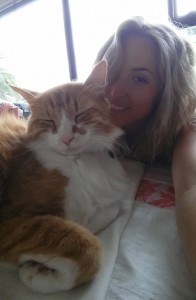 Stefanie Bartulovich – Customer Service
Stefanie has grown up with animals in her life, from rescuing and bringing up baby ducklings found in drains, to stray cats & dogs, to even having a wild boar living inside with her.  She now has two dogs, a young pitbull terrier and a retired pig hunting dog with epilepsy.  She also has a 7kg cat!
Find me at: Kumeu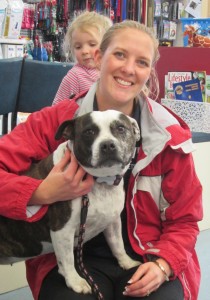 Sarah England – Customer Service
Sarah joined the Vets North team in September 15.  She brings a lot of sales experience from within the pet industry.  She lives in Parakai with her husband Leon and her two girls Mckenna & Emeliya.  The family has two cats, Luckie who has three legs and Killer.  She also has an English Staffordshire Bull Terrier named Sprocket.
Find me at: Helensville
Teigan Cameron – Trainee Vet Nurse
Teigan joined the team early in 2017. More on Teigan to come.
Find me at: