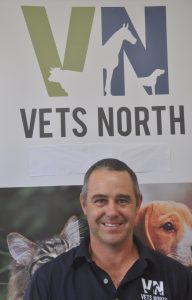 Dr Mark Young – BVSc
Mark is a partner in the practice and works on the equine side of the clinic.  He has worked in many diverse places including Gisborne, Matamata & Morocco.  Mark is experienced treating all types of horses from the Donkeys and wild Shetland ponies of Marakesh to the more typical Sport horses of New Zealand.   His areas of particular interest is lameness examinations & diagnostic imaging. Mark will be familiar face to many for his starring role in Vet Tales alongside his mate Stacey from Vetora.  Follow their lives on TV1 Wednesday's at 7.30pm. Mark lives in Waimauku with his wife Caitlin & three boys, Monte, Kobe & Makai.  When he gets some free time outside of work he can be found fishing in the Coromandel, on the local cricket pitch and is always striving to brew the perfect beer.
Find me at: Kumeu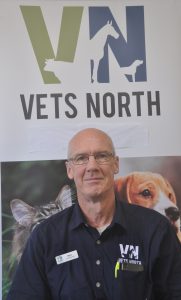 Dr Mark Anderson – BVSc
Mark was born in the UK but moved to Helensville in 1975, aged 16.  He went to Kaipara Collage for a year and then working on a local dairy farm for a year before going to Massey University to study Veterinary Science.  After staying on for an extra year he graduated with both a Batchelor and Master of Veterinary Science degree.  His Masterate was in deer parasitology, and he maintains a passion for parasitology to this day. After finishing at Massey he moved with his wife Maureen to Ruatoria on the East Coast doing sheep and beef work and station horses.  After two years he moved back to Helensville to work for the Kaipara Vet Club and has remained there since.  The practice has changed name several times and location once onto the main street but can still trace its roots back to the 1950's. Mark is on of the remaining old school vets who will turn his hand to anything.  Whilst large animal practice is his passion, especially sheep and beef farming, small animals, alpaca, horses and dairy farming are all within his scope.  Mark is also a long serving member of the Helensville Volunteer Fire Brigade and a past Chairman of the Helensville Primary School BOT.  He is one of the Directors at Vets North. Mark has a small block outside Helensville where he has built a house and raised three daughters.
Find me at: Helensville & Silverdale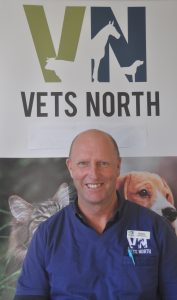 Dr Graeme Ashby – BVSc, BSc(Hons), MACVS
Graeme is a partner in the practice and joined Kumeu Veterinary Services in 2007 to lead the companion animal side of the practice.  Since Kumeu Veterinary Services & Helensville Veterinary Services merged in 2014 he now leads the Companion Animal team across both clinics.
He has successfully completed examinations in companion animal internal medicine, gaining membership to the prestigious Australian College of Veterinary Scientists.  Graeme has expertise in both medicine and surgery of all companion animals, exotic pets, rabbits and birds.
Graeme grew up in Waimauku and now lives just a stones throw from his childhood home with his wife Lizzie, son Cole and Schnack dog Rufus.  In his spare time you can find him at the Muriwai Surf Club or cycling the local roads.
Find me at: Kumeu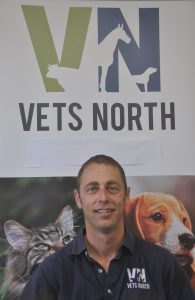 Dr Dave van Zwananberg – BVet Med (Hons), Cert AVP Eq Med, MRCVS
David graduated from London in 2005 and initially worked in mixed practice in Devon in the UK.  He is a partner in the practice and is a highly valued member of our equine team. His areas of interest are lameness, reproduction and general surgery. David lives in Muriwai with wife Amy & dogs Jasper, Fathom & Weasel.  Outside of work he can usually be found down the beach kitesurfing or when the wind is not blowing wakeboarding.
Find me at: Kumeu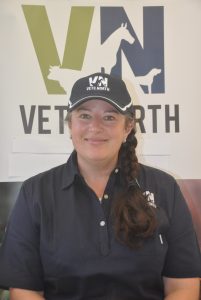 Lisa Pedersen – Practice Manager
Lisa joined the Team in 2013 & works between our Clinics as Practice Manager.  She brings many years experience in marketing, business administration & sales.  She worked overseas for many years in America running a large Equestrian Centre along with a stint as a photographer on Cruise Ships in South Africa. She doesn't go far without her Cocker Spaniel Capone who is lucky enough to join her at work, although he doesn't work quite as hard! Lisa lives in Wainui on her lifestyle block & is kept busy with her horses & Maine Coon cats.
Find me at: Helensville & Kumeu & Silverdale & Waimauku & Huapai & Veterinary Rehab Centre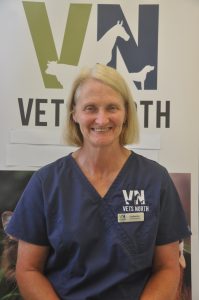 int(3)
Dr Catherine Phillips – BVSc
Cathy is a dairy farmer's daughter who arrived up in Helensville in the early 80's & made her home here.  She was initially a 'cow girl' serving a predominantly dairy practice in the early Helensville days.  She has now moved into the small animal practice & has now become a 'cat girl'. She lives on a lifestyle block with her two & four legged menagerie.
Find me at: Helensville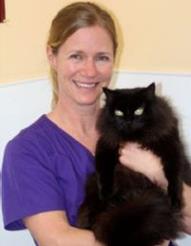 int(4)
Dr Keren Fraser – BVSc & BSc
Keren graduated in 2006 from Massey University and spent the following four years in the Bay of Islands in mixed practice mainly dealing with dairy cows.  She then spent two years traveling around the UK focusing on small animals and returned to her native West Auckland to cover a maternity leave role & has stayed with us.
Find me at: Kumeu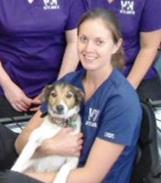 int(5)
Dr Angela Shoemack – BVSc
Ang joined the Vets North team in 2014 working between Clinics.  Her dog Podge is also lucky enough to join her at work. Ang lives locally on a lifestyle block with her husband & new baby.
Find me at: Helensville & Kumeu & Waimauku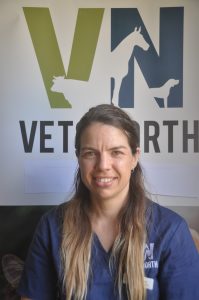 int(6)
Dr Caroline Elvy – BVSc
Caroline joined the VN Team in August 16. Originally from Wellington, Caroline has been fortunate to experience living and working in a number of different areas including Feilding, Queenstown and East Auckland.  Caroline made the move out West a few years ago and currently lives in Muriwai with her dog Charlie, two cats, two budgies and a turtle. Outside of work you can find Caroline surfing at the beach or out running.
Find me at: Helensville & Kumeu & Waimauku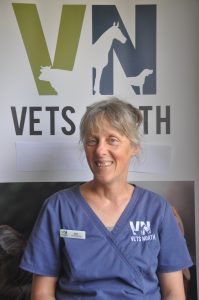 int(7)
Dr Elke Haag – BVSc
Elke joined Kumeu Veterinary Services in 1996 and since the merger currently works in the companion animal side of the practice at Vets North Kumeu & Waimauku.  She studied veterinary medicine at the Tieraerztliche Hochschule in Hannover, Germany.  She moved to New Zealand in 1993 to complete her post graduate research project. Elke lives on a lifestyle block in Taupaki which she shares with her husband, two girls, several horses, sheep, chickens and her cat Moritz.
Find me at: Kumeu & Waimauku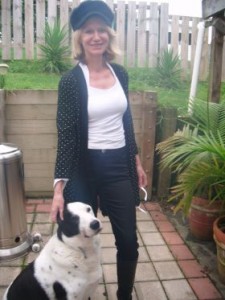 int(8)
Dr Elsa Flint – BVSc
Elsa joined the Vets North team in a part time capacity as a Small Animal Vet.  She is one of the most qualified animal behaviour experts in New Zealand.  She runs Animals with Attitude behaviour clinic which takes referral animal behaviour cases from Auckland and beyond. Elsa has a MSc(Hons) in Behavioural Zoology, Bachelor of Veterinary Science (1991), Membership of the Australian & NZ College of Veterinary Scientists in animal behaviour and has recently completed a PhD in Veterinary Science (Behaviour).  She also lectures Animal behaviour at a training school for Veterinary technicians and is guest lecturer at Massey University in the field of animal behaviour.  She has also co-authored six books on animal care and behaviour and has published several scientific papers. Elsa can be found at Vets North Helensville on Saturday mornings & at Vets North Huapai & Veterinary Rehab Centre during the week.
Find me at: Helensville & Huapai & Veterinary Rehab Centre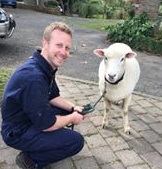 int(9)
James L'Aime – BVSc
James joined the Vets North team in 2016 as a Large Animal Vet based out of Vets North Helensville.
Find me at: Helensville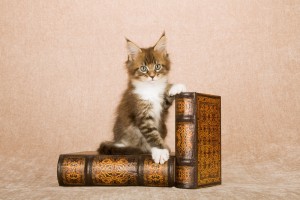 int(10)
Dr Ann Mills
More to come...
Find me at: Kumeu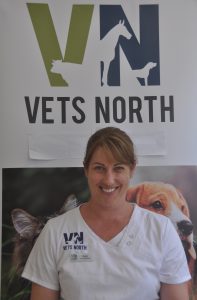 int(11)
Paula O'Reilly – BVSc
Paula O'Reilly Paula hails from South Africa where she completed a degree in Animal Science and Husbandry before moving to NZ to attend vet school at Massey. Having graduated 10 years ago, she has been working in Dairy Flat for the last 4 years and is very excited to be in charge of the new Silverdale clinic. Her husband, Dan, is a rescue helicopter pilot who also commutes to Australia so life is very busy with 2 little girls, a cat and 2 rabbits!
Find me at: Silverdale & Waimauku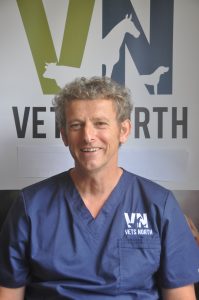 int(12)
Geert Donkers – BVet Med
Geert has joined Vets North for 12 months in October 2017 to work at the Waimauku clinic. He graduated from Utrecht University in 1988 and moved to the Outer Hebrides in Scotland where he has worked in a mixed vet practice for the last 29 years. He is married to Laura and has 3 grown up children working and studying in the UK. He has taken up cycling to work to keep fit and enjoying the New Zealand sunshine
Find me at: Waimauku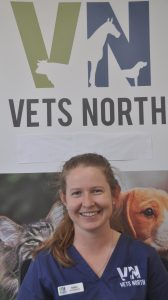 int(13)
Ashley Dempster – BVSc
Ashley graduated from Massey in 2014 and has been working and living in the area ever since. Her main focus is companion animal practice. Outside of work she loves nothing more than indulging in all things horsey. So far only has one horse, Polly, in her collection and is making the most of all the amazing riding options out west. Currently mother to one other fur baby, Theo the very spoilt cat.
Find me at: Kumeu & Waimauku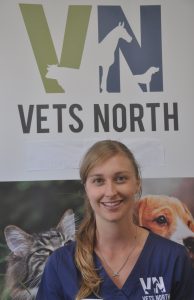 int(14)
Dr Jessica Howes -BVSc
Jessica is a recent Massey graduate who joined the Vets North team as a companion animal veterinarian in 2017. She now lives in Dairy Flat with her partner and two dogs.
Find me at: Kumeu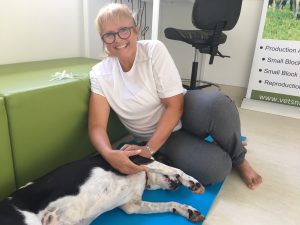 int(15)
Katherine Long – Physio
More to come
Find me at: Veterinary Rehab Centre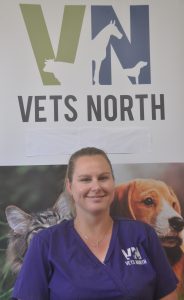 Chelsea Ryan – Vet Tech
Chelsea has been a part of the Helensville Clinic since 2008 when she was studying veterinary nursing at Unitec.  She has always had a strong interest in the rural side of practice including a special interest in working dogs and promoting better health care and nutrition for them.  Chelsea is based in our Kumeu Clinic where she has taken up the role of equine/large animal nurse. In her spare time you can find her with her horse Ty or relaxing at the beach.
Find me at: Helensville & Kumeu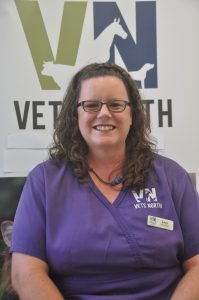 Arlene Pengally – Clinic Co-Ordinator
Arlene is Clinic Co-ordinator for our Helensville Clinic. Her journey began in 1993, when she qualified as a veterinary nurse and worked in a West Auckland Clinic for over 5 years. In 2001,  moved to the South Island and spent 7 years, on a 1300 acre property, in the remote Marlborough Sounds, working for an Eco Tourism company. In December 2007, she moved back to Helensville and started working for Helensville Vets in Janurary 2008. Arlene enjoys walking on the beach, bush walks, yoga and baking.
Find me at: Helensville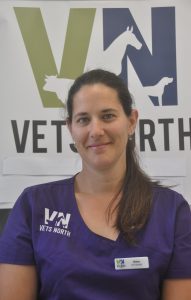 Anna Bell – Clinic Co-Ordinator
Anna qualified as a vet nurse in 2001, she is now our Waimauku Clinic Co-Ordinator . Anna lives in Helensville on a small lifestyle block with her husband and an assortment of pets.  She has a passion for horses and regularly competes in dressage .
Find me at: Waimauku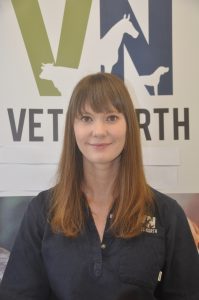 Stasia Parker – P.A.
Stasia has lived in Kumeu since 2011.  Stasia has 20 years experience as a PA and in office management roles. In her free time, she enjoys restoring second hand furniture, crafts and spending time with her son, 2 cats, dog and horse.
Find me at: Helensville & Waimauku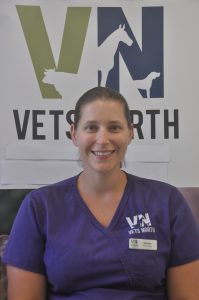 Narissa Cato – Vet Nurse
Narissa moved into the Helensville area from the Waikato and has worked at the Helensville clinic since 2007.  She started her Veterinary Nurse Certificate while working at the clinic and qualified in 2009.  Narissa feels very privileged to work with animals and have them as part of our lives. She has many fur babies who have stolen her heart over the years and is lucky enough to have a family who are just as animal crazy.
Find me at: Helensville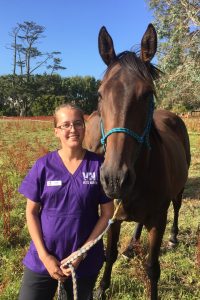 Brooke McGregor – Vet Nurse
Brooke graduated as a Veterinary Nurse in 2013 and also has a Certificate in Canine Behaviour & Training.  Her interests are surgical nursing and animal behaviour.  She also enjoyed completing a Wildlife and Conservation Expedition in South Africa. You can often find her outside with her dogs and horse.
Find me at: Kumeu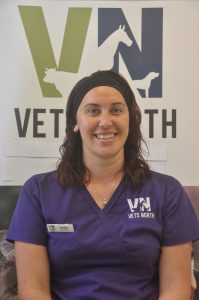 Lynnette Heke – Vet Nurse
Lynnette joined the Kumeu team in 2014 and completed her training in 2015. Lynnette has worked in a wide range of  roles including the human health field and the outdoor education industry.   She lived in the UK for 2 years before returning to NZ to complete her Vet Nurse Diploma at Unitec.  She also had the opportunity to nurse in a volunteer clinic in Tonga with the South Pacific Animal Welfare charity in 2014. Lynnette has grown up in a family that loves animals, at one point accumulating up to 27 cats and kittens around the family home, rehoming most of them to friends.  Lynnette lives in Woodhill / Helensville area with her cat Honey and has recently acquired a Helensville clinic rescue kitten that wormed his way into her heart.
Find me at: Helensville & Kumeu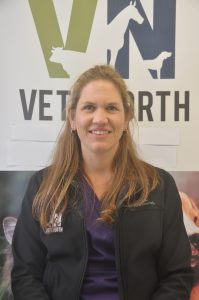 Melanie Trickett – Vet Nurse
Melanie qualified as a vet nurse in the UK in 2000. She has worked in a wide variety of practices in the UK – doing small & large animal, equine avian and exotic pets. Melanie has spent the last 10  years working at the Auckland Zoo before starting at Vets North in 2017 to be closer to home.
Find me at: Helensville & Kumeu & Waimauku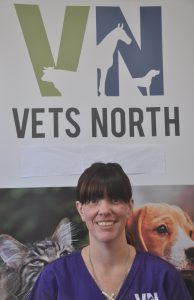 Trina Mullan – Vet Nurse
Trina moved to Auckland from Taranaki in 2015 to study Vet Nursing, during this year she began working for Vets North. Trina comes from a large dairy farming family and enjoys seeing farm or lifestyle animals that come into the clinic. Trina lives in West Harbour with her two dogs and one cat. In her spare time you will find Trina outdoors , she enjoys a wide range of activities from motor sport to exploring and hiking in the Waitakere's.
Find me at: Helensville & Kumeu & Silverdale & Waimauku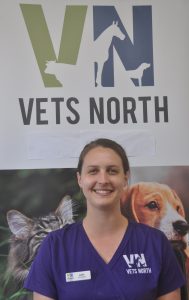 Lizzie Coombs – Vet Nurse
Lizzie completed her Diploma in Vet Nursing in 2017 after starting with us as a vet nurse student in 2016. She has grown up and lived in North West Auckland all her life and has always had pets so animals have been a big passion of hers. She currently has a dog, two cats and two horses that she has at home with her son Theo and partner Daniel. In her spare time Lizzie enjoys spending time with her family walking their dog Bailey, riding her horse Minnie and getting involved in social sports in the area.
Find me at: Helensville & Kumeu & Waimauku & Huapai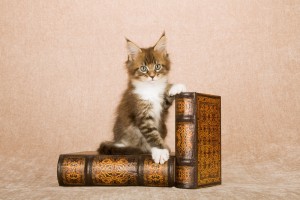 Sophie Coleman – Vet Nurse
Sophie joined the Vets North team as a trainee vet nurse in October 15. Sophie is currently on maternity leave & we look forward to welcoming her back in 2018.
Find me at: Helensville & Kumeu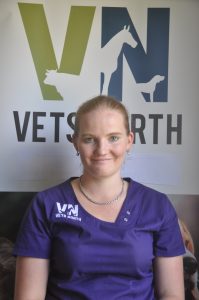 Mikaela Lewis – Vet Nurse
Mikaela is our resident Aussie vet nurse. Her family moved to New Zealand in 2013. Mikaela qualified as a vet nurse in 2014 and she worked in South Auckland before relocating to the scenic North West. Mikaela has a 'few' horses and enjoys eventing. She has three cats and one dog at home. Mikaela runs the Puppy Preschool classes at our  Waimauku clinic.
Find me at: Waimauku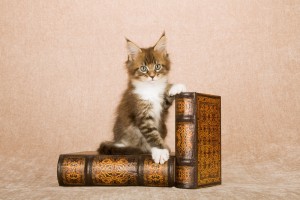 Sharon Smith – Vet Nurse
Sharon qualified as a vet nurse in 2016 with unitec. She has grown up in a large family of 6 kids and several animals at Muriwai. She recently married Sam and has a cat called Chico and four chickens. When she's not at work you will find Sharon surfing out at Muriwai, sometimes in the early morning before work. She loves adventures with her friends, playing in sports teams for local clubs and spending time with family.
Find me at: Helensville & Kumeu & Waimauku & Huapai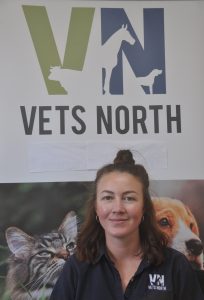 Melissa Rochefort-Rennie – Customer Service
Melissa joined Helensville Vets in 2012 and was a part of the Vets North merger.  In 2015 she left Vets North to give the corporate world a whirl however found herself missing the busy veterinary environment so she has come back on board with the Vets North Kumeu team. In her spare time you can find her coaching young equestrians, out on her motocross bike or involved in some kind of activity with dogs.  Mel, her partner Vincent and their fur-family consist of Whiz an English Stafford who starred on Kiwi Living, Bones a Helensville clinic rescue and Zenya.  Mel is passionate about continuing her education in animal behaviour especially puppy development and enrichment.
Find me at: Kumeu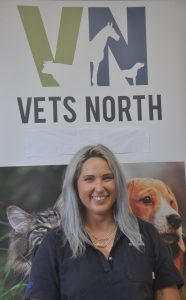 Stefanie Bartulovich – Customer Service
Stefanie is one of our Customer Service Superstars in Kumeu and has been with us since 2015. Stefanie has grown up with animals all her life, from rescuing and bringing up baby ducklings found in drains, to stray cats & dogs, to even having a wild boar living inside with her. Steff has also had an epileptic dog called Patch who she cared for in her later years. She now has two dogs, a young American Staffordshire terrier called Mila and a retired pig hunting dog called Boss.  She also has a 7kg ginger cat! Outside of work Steff enjoys fishing, camping and all things outdoors with her partner Dave.
Find me at: Kumeu & Waimauku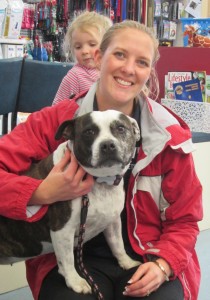 Sarah England – Customer Service
Sarah joined the Vets North team in September 15.  She brings a lot of sales experience from within the pet industry.  She lives in Parakai with her husband Leon and her two girls Mckenna & Emeliya.  The family has two cats, Luckie who has three legs and Killer.  She also has an English Staffordshire Bull Terrier named Sprocket.
Find me at: Helensville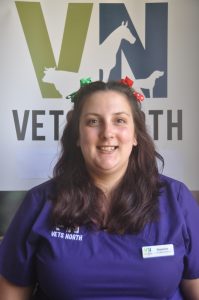 Stephanie Good – Customer Service
Steph recently joined Waimauku as one of our Customer Service superstars. Steph has two children that keep her on her toes. Previously Steph worked as a dog groomer and sometimes helps in our dog grooming department in Waimauku. Steph has a soft spot for our clinic kittens and often fosters until they're ready to go to their new homes.
Find me at: Waimauku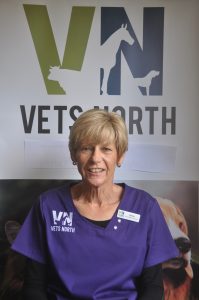 Dorne Tiehuis – Customer Service
Dorne joined Vets North in June 2017 after working for Doctor Bobs Vet for 18 years. She has previously worked in Human nursing and pharmacy. Dorne lives on 11 Acres with her husband Tony & son,  has 2 cats, 10 cows & plenty of ducks on the pond. When not at work you'll find Dorne either gardening, crafting, home demo, fishing, getting out on the hubby's motorbike or socialising with her friends.
Find me at: Waimauku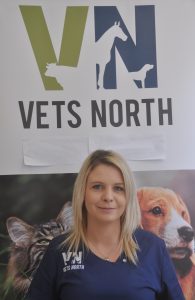 Alana Troake- Vet Nurse
Alana grew up on the Hibiscus Coast and has just completed her Vet Nurse training through Unitec in Auckland. She has a new Catahoula puppy and rides horses, both for pleasure and as part of their training process She can be found at the Brand new Silverdale clinic when she is not 4 wheel driving on Muriwai Beach with friends and their dogs
Find me at: Silverdale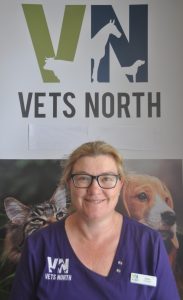 Jenny Mackay – Groomer
Jenny has been an all breeds groomer for 26 years and previous owner of 'A Dogs World' in Mission Bay. Jenny's focus is on establishing a relaxed and happy environment for her canine clients so they can achieve the ultimate groom and experience.
Find me at: Grooming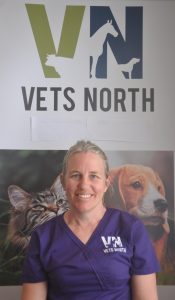 Michelle Parker – Groomer
Michelle started grooming after being a stay at home mum to two boys. She loves all things animal and enjoys the time she spends with the dogs making them look fabulous! Michelle shares her life with her husband, kids and old rescue dog Buddy and two rescue cats Gizmo and Molly.
Find me at: Grooming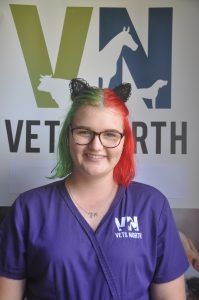 Teigan Cameron – Cattery Assistant
Teigan joined the Vets North team early in 2017 after being a student with us for 7 months.  Teigan has a Certificate in Animal Management & her First year Vet Nursing under her belt.  After traveling earlier this year she plans to return to her studies & can be found at Vets North Waimauku Cattery. When not at work Teigan can be found out riding her horse, keeping her rabbits company or playing fetch with her cat Cooper.
Find me at: Waimauku & Cattery